That's how much I keep up with Rollersnakes.
One month before my 40th birthday, I suppose I can't enter unless I bleach my beard. Hhmmm…
They won't be IDing people. Get a flight over and Ill pick you up from Luton!
Ha! That would be ill. I'll see if I can get time off work.
See you nerds there. Will be driving from Oxford in a Volvo estate for ultimate old man points.
@Spanky why did you close the separate thread? this deserves it mang!
the prizes are excellent. 10 out of 10 whoever came up with them

Shiner stuff and Heathen, so Rollersnakes I guess…?
Its organised by Dadlands/Groans/Snakes so yes
Couple of hours or so earlier on new deck and wheels. Didn't land much, but no big deal, nice to get out.
any of you lot heading to prissick for the bingo jam?
Heading over in the next hour!
Fuck I am so gutted I can't make that jam
We could start a gofundme to bring Spanky over and achieve his dream
Took the slappy parking block out to Morrisons car park yesterday. Still getting the hang of it but great fun.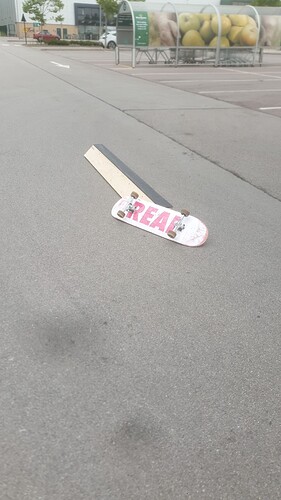 did you make that or buy it? wouldnt mind one myself!
Yeah spill the beans. I need that in my life.