As if they've not been offering forever.
You'd think if they had offered he'd go for it, unless he just enjoys buying his own shoes?
Maybe he knows it's a death sentence haha.
I dunno. A lot of people seem to have had heavy offers and refused.
If he is making enough from what he does already, then is riding for Cariuma anything more than a cash grab?
From watching his games, I feel like he is quite self aware. He has kept the trick selection pretty tasteful to a point - just sticking to 'regular' tricks - and seems to be trying to dress in a way you can't hate.
…so he's not daft and knows what that Cariuma route entails.
Plus, if I were him, I'd rather buy my own shoes too.
If he was that self aware he wouldn't be skating for Hop King and buying your own shoes as someone who will need to spend hours perfecting flat ground tricks would be pretty silly.
Anyway, let's all just hope that pray that some other shoe sponsor picks him up.
You can be self aware and not know everything.
No congratulations post from Decunha. Is this the moment where the Hop King team collapses in jealousy?
Or blows up in board sales?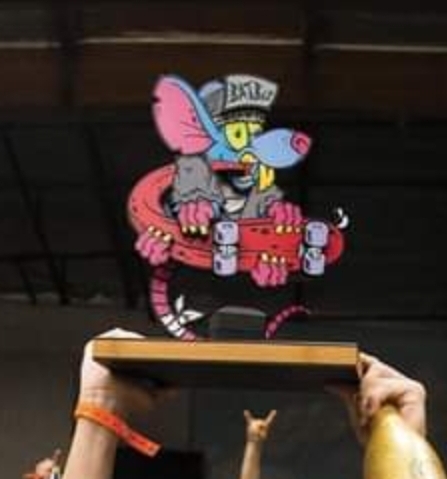 Poor kid. Has to take this hunk of junk back home.
Wait, is that the actual trophy? After all that effort, he gets a cartoon mouse?
Ha
I got bored and watched that Penny video Anonymity posted earlier. And that trophy, ouch. Wasn't one of the early ones a Haroshi made Fire Hydrant or something like that? Im probably mistaken.
Edit - no, that was a Huf graphic

The rat trophy is doing a grab and it's tail is on the floor. All the things you're not allowed to do! FFS Berra!
not gonna lie, that would make a good sticker
@andy_smoke : It's got an Ed Roth's Ratfink sort of thing going on, eh. That being said, it would be getting pride of place in a dusty cupboard rather than being displayed on my mantelpiece. (The total opposite of a Haroshi piece.)*
Haroshi's sculptures are wicked, no question