Fucking love Duggee
'COME ON CLOUDS, HELP THE PLANTS!'
Had a call off my daughters teacher. They are not going back till September and they will still be moving up a year like normal, but doing the work they have missed from the previous terms year.
Duggee, Messy goes to Okido and Ben & Holly's Little Kingdom are my top three for sure.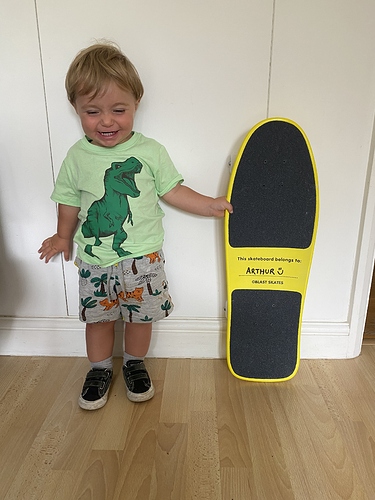 This made me well up abit. I was meant to wait till his Birthday in December, picked it up from my mate this morning and I think we both got a bit overexcited and set it up.
Just realised I'll be due a Father's Day present from now on.
What did you dad lads get first time round? What should be expected?
Welcome to the new socks club.
Ah, yeah. Shit. I'm quite fussy about socks. Bit of a waste.
Depends if the Mrs has any money left and remembers. This year I got sent a link to some ciders and I said yeh that'll do
Usually a hand drawn card from the kid which is ace. Then some other stuff from the shops which I don't really want or need. Sounds harsh but I think Fathers Day is just another con to squeeze money out of people like Valentines etc. All I really want is some time to do what I want.
Meldrew.jpg
Totally agree. it's a crock of shit. Same for mothers' day and every other similar card giving day.
Weird and creepy, you're single right?
Blowies are for steak and BJ day solely when you're married and usually just ends up with too full from steak.
It's the fact that your kids are meant to be giving you these presents on fathers day, haha.
You are a paedophile, you are a nonce, you're a perv, you're a slot badger, you're a two pin din plug, you're a bush dodger, you're a small bean regarder, you're an unabummer, you're a nut administrator, you're a bent ref, you're the crazy world of Arthur Brown, you're a fence foal, you're a free willy, you're a chimney bottler, you're a bunty man, you're a shrub rocketeer…
Do you get a card on steak and bj day?
Is it a real holiday or not?
So confusing these days what Hallmark actually sanctions.
I usually forgo a present in favour of breakfast in bed and getting to do wtf I like for the day. Hand drawn cards from kids always good. It is what you make it, be daft not to squeeze some you time/tactical advantage from it. This is possibly too cynical for your first one
And here was one that was touched by the angels…
This year I got a selection sausage rolls and brownies from a local purveyor of delicious treats (bit early, but they were deliverer Tuesday). It'll all be shared, but then I generally get to share the chocolates for Mothers Day so it's all good.
Cards will be hand made by the littleun. We use it as an excuse to have treats from local businesses.
Ewwww who did you have to give a blowie to?