Yes Ned! Chron Mobile ahoy!
Start of the Ice Hockey season

Not so stoked only a few games are on at a decent time to watch live here but meh
Ollie is the best. Crazy that he grew up on Jersey island and made it to where he is now. Always stoked on him. Nicest guy too.
Nice!
Probably not the last one. Tattoos can be addictive.
Cheers! Yeh got a couple in mind, just stuff that I feel makes up part of who I am like skateboarding. After that then I'm not sure. Taken me ages to sort this out.
It's taken a few weeks of stressing but I finally got a flexible working hours request approved today, so now I finish work in time to pick my daughter up from school two days a week.
Barcelona trip a week on Monday too.
I have two hours left, then I leave this shitty job

Stoked for you.
Leaving my old job is the best thing I did in a really long time.
I'm on the brink of handing in my notice at my work. Hope you moving on to a better job. It would be good to have an escape!
Haha yep, definitely
Can't be arsed with details right now cos I've just got home and I'm about to get drunk but yes, I am moving to better things (a similar job but with far less daily bullshit) and I am stoked as fuck.
Stoked, at 57, to have learned my first actual never-done before new trick in about 20 years. Most of my learning these days involves trying to get back old tricks I've lost over the years. Today I learned something new: carving switchstance. I switch carved around the corners of the Selfridges bowl. Took me a couple of weeks to learn. Needed to loosen my trucks and get up the nerve to lean back into the turns.
Well done, it's always good to learn something especially at your age.
Took the trip to Barcelona with my daughter last week, first full day out there we got up really early and headed to the zoo, I spotted that new little skate plaza and went over to just get a picture of the spot, as we walked up I saw a guy skating the manual pad and as we got closer I realised it was Shane O'Neill…
He was trying a 360 shuv nose manual, nollie tre out, I was going to ask for a picture after he made the trick but my daughter was desperate to get to the zoo and didn't want to hang about and started moaning…
I was just about to give in to the moaning and leave him to it when another skater pulled up with a massive dog, the dog came straight up and stood beside us appeasing my daughters moaning and I got to stroke this big beautiful dog with my smiling daughter while watching Shane O'Neill skate in 21 degree sun at 9am in October…
He was struggling with the trick, but I think I preferred seeing him battle as it just humanised someone who often gets called a robot, he is in fact just a skateboarder, I interrupted and quickly got a photo and we moved on to the Zoo before I saw him get the make.
The Zoo was amazing, barely anyone else in there so we got really amazing views of all the animals, then we hit up a massive comic shop and nerded out, before heading back for an afternoon of swimming in the hotel pool which we had entirely to ourselves for hours as the sun went down.
As I put my daughter to bed she told me it had been the second best day of her life (after Disneyland Paris which I also took her to) after she fell asleep I was ready to resign myself to a few hours of quietly chilling on my phone in the dark. After seeing Shane's make on the gram I posted some photos of the day and ended up messaging back and forth with an amazing woman for a few hours, who then decided to ask me out.
Sorry for the long post but In hindsight I think this might have been as close to a perfect day as I'll ever have, stoked, stoked, stoked, stoked, stoked!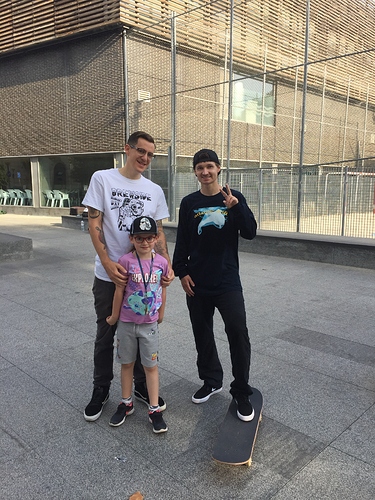 Now that's a proper Stoked-thread post. Big up GM.
That sounds like an amazing day. Travelling is the best. I try to show my kids as much of the world as possible, and how we're all connected (like meeting Shane on a street there). Stoked for you.
Posting this here just because Chico's got me on some positive vibes