Rodrigo TX mystic cup.
I always liked Mike Santarossa radlands 94, it was sketchy and might just be the edit with come on Eileen too.
Blender obv
I always remember Tony Trujilo in a slam city jam before he was all Motley crue.
There is a cards or someone in Marseille.
Bob Burnquist's bonkers switch fest ending in blunt flip out, can't remember the comp.
Birdman's co-comms are great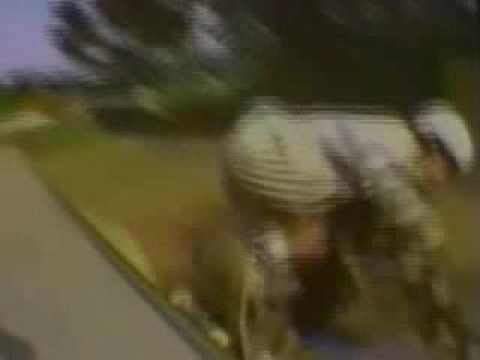 The run at the start of this. Backside air into ollie truck bash ftw. The whole run used to be on Youtube but perished
There was a Pedro Barros run on an outdoor wooden vert that I can't find but was like something out of thps. Absolutely massive corked-out mctwists and a load of other ridiculous shit. Anyone know which one I mean?
I remember taping that when the xgames was shown on Channel 5 at like 3am. Watched it in awe before school and then took the tape in to school to share it round
Yeah that shit is absolutely mental. I remember it being on Grant Taylor's IG before I left
The indy at 25 seconds is probably the gnarliest one ever done.
He must be so physically strong to be able to get a pump like that.
Ha! was just about to.
I wish Gonz's run in Savannah Slamma was on YT on it's own.
Gonz's run to Drunk Injuns, so good. So much groundbreaking stuff happened in that vid. First street kickflip in a vid Tommy G, the kickflip was a rumour for a while before that. Gonz's front boardslide up the rail- mental
Ah, YES! I love this vid.