If that curved block at the back is adding any extra costs please contact whoever is in charge to scrap it immediately.
Just make it straight and it will actually be skateable.
Edit: I thought it was just at the planning stage but I guess it's too late now.
Although you said about straighten it out it's super fun to skate .
And the step on the back to eliminate the need for dirty horrible railings !! That noone wants
Sorry curved ledges are my hang up. I just hate them. They look good on plans but the reality is a straight ledge is just a million miles better to actually skate.
The problem with that curve is it makes grinding the top step to flat really tricky.
The rest seems OK. Fun little park.
You do have a lot of straight though and the curve would make it easier to ollie up the first one, to grind the second one. A lot of it looks like only one or two skaters can use it at a time mind.
Yeah it's great fun trust me!
Yeah I thought that too but you'd be surprised plus where it is it's out of the way so some days you get to skate a empty park
It all flows really well and you can have more than two people on it at a time Which is good
A concrete W and all too similar to the Glastonbury park.
Blocks are barely usable, really badly done. I can't tell the dimensions by the pics but if the ledges are low then the width on top is too thin, if the top is a decent width then the ledges are too high. The curve is fine if the tops are wide enough and you have 3 times as long afterwards to set up for the trick off the end. Skate it, you'll find out.
Had a couple skates here this weekend, it's a really fun little park. Was pretty empty both times, so you can flow round the whole park.
The ledges are pretty good, picture with my board for reference. There is a fence all around, so you wouldn't really be able to skate the higher ledges to flat anyway.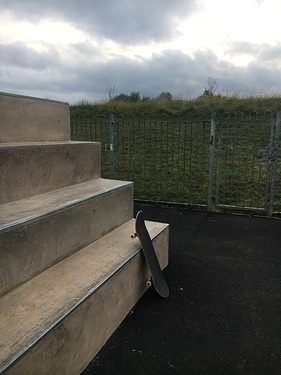 Yeah it seems to be quite in the mornings and evenings now the it's a new park buzz has worn off
The fence were supposed to be removed when the park was finished and a smaller wooden fence installed 4 meters away from the tarmac but after agreeing it 6 years before , the council then decided 1 week before it was finished they wouldnt remove it due to costs it's also why the ledge on the side are up against the fence
Unfortunately there was nothing I could do about it .
I'm working on an edit of the park at the moment, so hopefully that will give you all a better idea of how it all works.
You do get the most minute of roll aways from those ledges, as Lacey said!
Moving to Bristol in a couple of weeks so may give this park a visit!
Ah sweet. Hopefully see you around!
Yeah man not going to know any skateboarders there so it's going to be hard to keep the motivation up to skate.