Trick of the month for August no time to clean it up, keeping it 90's
Keeping it in the pressure flip family eh
Near make from a while back. Will see about trying to get something clean on video as it doesn't count!
Don't think I could physically do a front foot anymore and they were infrequent when I could…plus they're a bit smelly.
omg that was sick even for a not make
Yes ! You totally have that man ! Just stomp it down. Front foots are weird, I only ever did nollie ones ( which dont really count )
Ahh thanks you guys lol. I learnt them when they were 'in' so maybe '90-91? Would prefer a more horizontal wrap, mine tend to go a bit vertical with the nose dipping after 180 degrees.
Quick one from just now. Been over 10 years since I did any other form of one so may to get the flatland torture session on soon
I went for a skate this evening. Tried some impossibles on my little egg deck which seemed easy at first and was flying round my foot like a scooter tailwhip…but I couldn't land it. I was sweating so much, I think last weekend getting on it has deposited a surplus of toxic sludge in my glands or something.
Switched to my regular deck and landed a couple of 360 270 shoves that smelled faintly of impossible, but that could have just been from the sweat.
Anyway, I'll try again but seeing as I got the camera out have this.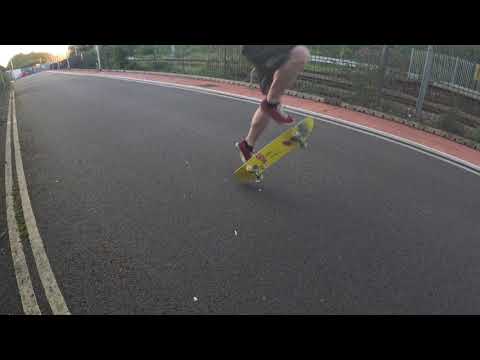 Legit wrap on that. I can only do them fakie.
Thanks, but I don't think the ones I actually landed were that legit. I might try on a bank next time it was hard work on flat.
Did a better impossible on Sunday before heading to the Antihero demo, anyone else got one ?
Yeah where are they? I'd love to see more involvement in this.
This is pretty much the only thing on this forum that keeps it focused on skateboarding and not just on commenting on footage or other peripheral stuff that isn't actually skateboarding.
Maybe it's not fun to go skateboarding, or maybe it's the filming aspect, I can understand that.
I have hardly skated through august…holidays, festivals and stuff. Back on it next week!
I can't do this trick or the one before this.
But you could try to do it?
I'll give a no comply impossible a go if that counts.
I filmed one (first go!) About a month ago but it was shit and didn't have time for a redo or to get it on/over something tasteful
Sorry I should have put more respect on your name. Posting bails is obviously haram.
Anything goes I reckon. Get what you can (or can't).