its that time of year again when i sort out the skate jam at Lloyd Park in Walthamstow, we are running it on saturday 13th and sunday 14th July as part of the www.walthamstowgardenparty.com festival. there is loads of music, food and beer and the festival is free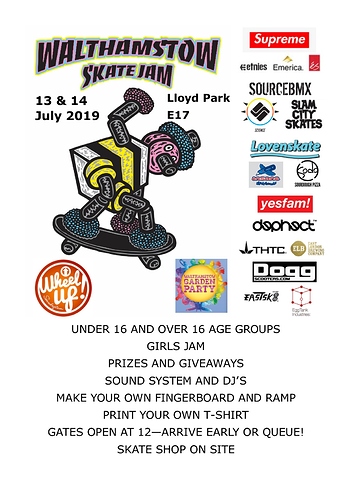 gates open at 12 and there is always a big queue as about 12,000 people attend each day. so if you are coming get there early as it is usually one-in, one-out by 2pm.
massive thanks to everyone who supported me with prizes especially Jagger & Supreme and Jacob & Slam and Paco & Yes Fam! and Sam & Egg Tank Industries. Got plenty of other bits from Emerica, Insane (thanks also Ged for the bertie artwork) , Dephect and THTC clothing, as well as some Pizza vouchers from local company Sodo Pizza and some beer from East London Brewery. We have a fat sound system playing reggae, hip hop and jungle too… this time round we also have some craft activities for the small kids making fingerboards and ramps courtesy of Aga @ MotherBoard, and griptape design courtesy of AshSkates.
cheers