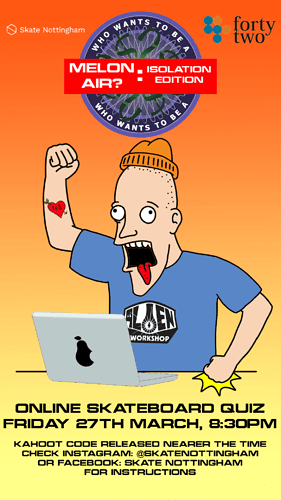 Yo! Going to be running an online non-pub quiz on Friday to test the depths of your skateboarding knowledge. Expect questions relating from every era of skating - so get swotting. Starts at 8:30pm.
Prizes are very generously being donated by FortyTwo Shop. So please show them, and other SOS', some love over the next few weeks as they try and get by on online sales alone.
We'll be running the quiz via Kahoot. Earlier in the day, I'll post a code for the quiz to here and then input that at http://kahoot.it . The quiz will get underway fairly promptly. Kahoot allow up to 2,000(!) participants, so feel free to tell your mates. Or not, if you want a better chance of winning!