I thought this could be a fun thread. Somewhere to tell your embarrassing, funny or horrific true life stories, past and present.
How do I turn on anonymous mode?
Click your avatar and hit the little spy button: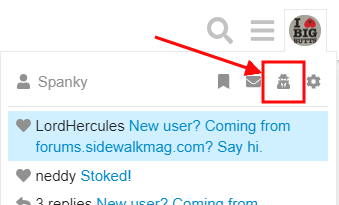 This happened to me last week.
I had been talking to this girl on the internet for a while, we met up a few times. She'd stayed at mine, I'd been to see her and such (she lives in a different city). It wasn't right for me and I let her know, I wasn't harsh just that I wasn't really looking for anything more than being friends type crap.
I'd get the odd text off her over the next few months. Mostly just a smilie emjoi or some bollox like that, so I'd reply with the same. Thinking nothing of it.
Then I started getting pages of texts about her life story, how shit it's been, how much she loves me! I do the best best thing possible and just ignore them, she'll go away, right?
In the end I had to reply and say that I didn't feel the same and I wouldn't of called what we had even a relationship. The texts and trying to call me steadily get worse, I'm ignoring them still, block her on this app, she pops up on another, I'm not answering numbers I don't know, type deal.
Then the other morning, first thing, I wake to someone knocking at my door, I peeked out my bedroom window, yes her! She'd took a train to come see me. I open the window and say 'I'm not answering the door and to please go away'.
She starts scribbling notes and posting them through my letter box, along with breakfast bars, fucking breakfast bars!? Like I'm going to eat her kidnap, rape laced passioned food! She is still putting a right show on for the street to enjoy for a while, knocking, banging and shouting.
Then it goes silent. I look out and she is gone, thank God. So I get ready to go out, that's when I notice that she has broken into my garden and is sitting there reading a book, chilling-out, waiting for me. I just leave her too it and go out the front door, when I get home she is gone, thankfully and haven't heard from her again. I hope she has finally got the hint. Women be cray, cray.