I keep riding past this park in Bristol on my bike, does anyone know anything about it? Really weird set of ledges, all super close to each other. I never see anyone ever skating it.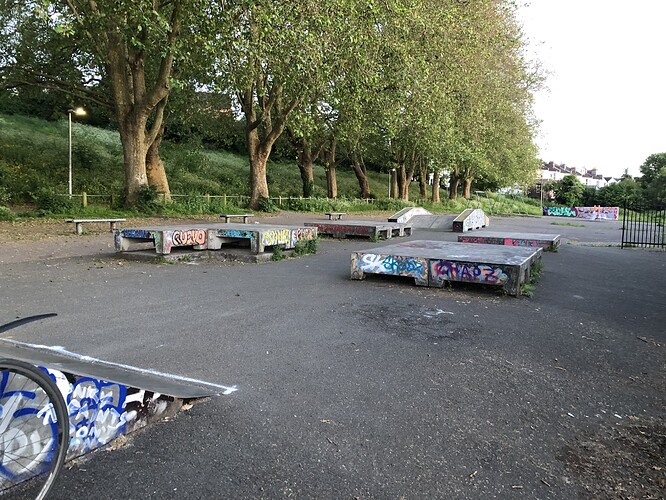 looks like a proper awful mid 00s council job
Looks like it's been specifically designed for muggers and scallies. Bet it's absolutely covered in spit.
Weird that they took the time to repaint the tree art even after painting over half the wall
Used to live about 1km from here in the mid 00s. It was built around 06 I think, as a replacement for some tarmac lumps. The council's main point of contact was a BMXer (Craig I think?) with dreads who was a regular at St George and went to Parallel on a trip to Barcelona once. Thought it was such a fantastic spot that it should be replicated here, and voila… Despite everybody telling him otherwise when presented with the plans, he stuck to his guns that it was a cool design which would then get further investment to expand and renew it from the council. Needless to say, that never happened.
Great to see that it still sucks.
That's interesting to hear the backstory, such a shame he wouldn't listen to advice.
It has a wall at the bottom now with a lip…
Even the, it spits you onto where one motorway turns into another.
Love the design of that, found the rest of the booklet here.
Even if it was skateable, how do you get to it, just trek through the fields?
I've only just realised that I follow you on Twitter! Didn't put 2 and 2 together for some reason (despite same username)
Absolutely loved this motorway booklet you posted yesterday
ah yeah that's how I found the photo above, on the search for archive motorway opening booklets!
Off to see this later. Should be good.
Reminds me of this, about 30 seconds from my mum and dad's house
Some brutalist concrete in Tokyo
As somebody on Twitter said, now we know what a skatepark in a prison yard looks like.