As per the suggestion from @jimo
Great idea for a thread. Keen to find more good stuff to read…
Top comic series.graphic novels.
Irredeemable
Fables
East of West
Saga
Y the last man
Lucifer (Don't be put off by the TV series, it's very different)
The Boys
Supergod
Black Summer
Any ABC warriors with Simon bisley

I was really into the Aliens, Predator and AvP comics as a teen. Sadly, my dad threw everything out some years ago - but I picked these up when they came out (and the Predator one):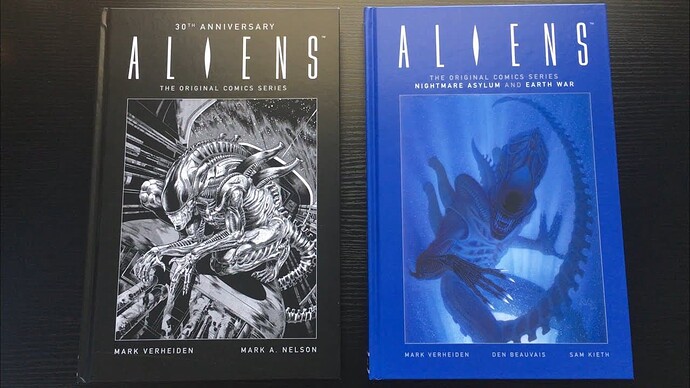 The compile all the original runs of the Dark Horse comics in their original form - as I read them - as they were originally set as sequels to Aliens right up until Alien 3 came out, at which point they were re-edited.
Some good ones in there - some for me to add to the list too.
Maus
Sandman
From Hell
Blankets
Off the top of my head, I'm sure there's a lot more if I think about it (or you know, look at the shelf).
This guy is an under-rated comics genius:
The Crossed.
It's like an extreme version of The Walking Dead.
It can be a little on the extreme side of graphic novels but no weird paedo shit or anything.
I don't know why, but I've never read Maus before. It's been sitting on my bookshelf since my mid 20s and I just didn't think I could hack it.
I'm about half way through it's truly harrowing.
I've got maus 2, which is a making of follow up which has a cd which I think has the majority of spiegelmans recorded conversations with his dad on it. Which I probably won't be able to stomach but might give a go
If you've got young kids that are old enough to sit down and engage with a picture book at bed time, I really recommend getting a copy of bone by Jeff smith. It's almost abit lord of the rings ish but can be read with way younger kids. A nice family one for primary school age
Any ABC Warriors with Mike McMahon or Kevin O'Neill.
I've never read Tank Girl. Any good?
I really rate Jamie Hewlett as an artist but I never liked his smoking fetish. I preferred Hewligan's Haircut in 2000AD to Tank Girl.
I know Blind Ollie would join me in recommending D.R. and Quinch to anyone who hasn't yet read it. Batshit crazy early Alan Moore strip for 2000AD.
Can anyone recommend anything similar to Sabrina? Only graphic novel I've ever checked out and loved it
Anybody interested in the intersection between politics, history and comics would be well-advised to check out Joe Sacco's work.
I've pimped him on here many times before but his output and art work is incredible imho.
Latest one re indigineous land rights, First Nation people in Canada came out this year.
My favorite ones are his Balkan comics which chronicle aspects of the former Yugoslavia's descent into horror.
They're grim but incredible - highly recommend both of the ones below.
and
Also I used to rinse Love and Rockets by the Hernandez brothers (more of a real life vibe I guess) as my ex partner was mad into them.
And Charles Burns 'Black Hole' if you like creeping horror type stuff.
Black Hole is really good, I've got that one. Ghost World arrives tomorrow so I'm gonna be reading that.
Ghost World is great.
If you like that, you'll definitely dig Love n Rockets too as it's a bit more mature kind of
Last night I dreamt that a huge King James Bible sized edition of Ghost World was on my bedroom bookshelf. Weird.
Also…I haven't watched it but this is a short film based on Black Hole. Might be interesting.