Seems kinda harsh on Dúbravka. He's decent!
Good signing. Pope is class.



Delighted to sign for your insert football club here
It's like a free cameo video.
Good signing.
"It's a great club. The fans are incredible. I can't wait to get to work!"
Hate to say it but reckon the toon are gonna have a belter next season
Gotta agree on this, always thought he was a great keeper. Not too old as well.
Just proper competition. Darrow isn't good enough.
Yeah, I see what you're saying, I just would rather a younger player who's coming up as competition rather than another keeper in his prime. Suppose it's a good situation to be in though!
The Toon have always had pretty good keepers for the last 20 or so years. Given, Shakka, Pavel, Harper and Krul!
When teams have two good keepers though it never works out very well at all. Ultimately one of them wants to leave due to a lack of games.
We'll take Dúbravka at Everton and ship off Pickford somewhere else….
Ooof 'loyal' leeds lad and fan favourite signs for City
Don't blame him Leeds are going down next year anyway
The most reliable journo for transfers has said we have signed / will sign Botman everything agreed. Toon revolution is coming.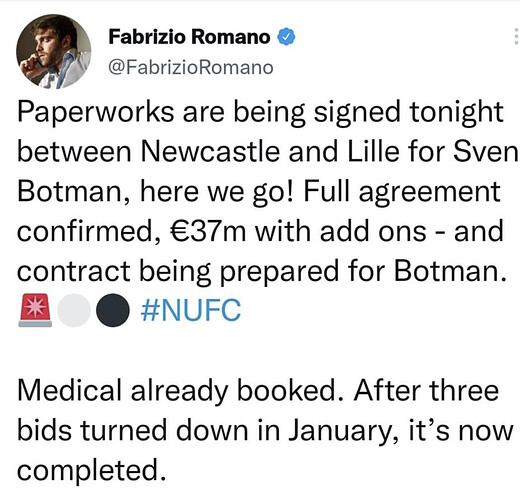 Jesus to Arsenal.
BIG signing that
He'll be straight in my fantasy team. Cracking signing that'll skirt under the radar with Haaland an Darwin Nunez taking the headlines.
I wonder if that would still leave the option of a loan move to a prem team at some point?
One year deal apparently so I don't think so. I reckon he's gunna move again after the World Cup. He's 32 and really only gives a fuck about Wales so maybe Euro 2024 and that will be it.
All the stuff about this move says it's to stay fit for the World Cup.
Would love to see him in the prem sooner but you can't blame him for making Wales the focus now.
I love Bale favourite player after Shearer 100%.