Couldn't find a golf thread, but anyone who watched full swing knows how mental this is.
Been tempted to make a golf thread but assumed I'd get a bollocking.
Had the worst day in work ever the other day. Went out at 6.30pm to play 9 on my tod and it was exactly what i needed. Fully recommend twilight rounds.
Went on a golf trip the other day and I was the worst by some distance (out of 16). Just kept banana slicing 150 yards to the right off every tee and not finishing out any holes.
Going to grind it out so I'm at least sub 30 for next year. If I can break 100 once between now and next summer I'll be delighted.
Also…yeah this merger. Wtf??? Bizarre.
I'd love to get back playing, a few homies have. Watched full swing and just been following again.
My brother still plays off 6!
Played with my dad the other day. Been ages since I played and it was tough but really enjoyed it. Think I'm gonna book to play another 9 holes soon.
That merger is the last thing I expected. I saw Full Swing too and been following it pretty closely. I feel like money has spoken here.
Well, shit. Not sure I understood the LIV golf plan to begin with. In fact can someone explain sportswashing to me? How was paying a bunch of golfers tens of millions of pounds to play in some shitty league going to make Saudi Arabia's government seem less evil.
It won't. They tried to buy golf basically and thought they could outpay and tradition the PGA basically.
Some people went like Ian Poulter, end of career huge pay day etc.
I'm keen to see what happens.
Been playing quite a bit, just got a full new bag with arccos caddy chips in the clubs. Really good to know proper yardages and it pairs with my Apple Watch for GPS.
Thinking of building a golf simulator in my garage.
I've played on and off for years but never really seriously. Been having some lessons lately though and trying to actually get a bit better.
Me too until I moved to the countryside a month ago
My father in law is obsessed with it but it doesnt do muchh for me. Been to the driving range before and just tan it as hard as possible. Never actually walked after it, fuck that noise
There's actually a pretty decent links right by here but it's one of those where you need to be a member of the club. Really, really can't be arsed with all that. I think golf would probably be the only thing I'd have in common with hardly anyone. Although saying that the plumber we use plays there and he's really sound.
Knowing the yardage helps so much. I use an app on my phone. Golf simulator sounds good, imagine playing virtual Augusta or St. Andrews.
I don't think you can play Augusta because they don't give out the license to those virtual app things.
Wanted to play it at Urban Golf and it was the only course they didn't have.
Did you miss that massive fairway? Haha
I'd have found a way.
I'm not very good but actually taking it seriously and trying to improve.
For years I just played without giving a single fuck. A couple of good holes a round was enough to bring me back.
Golf is so fucking hard.
Am enjoying some Rick Shiels videos on YouTube before bed each night.
Anyone got any spare RH clubs for a short arse?
Also so many good courses near me and have homies that are half decent if anyone fancies a round.
I can probably club round an 18 these days.
If you're ever up this neck of the woods it'd be good to have a round. Got a local club that's only about £20 for a round. Decent course too. Could also get on the train and meet somewhere half way. My dad's got some spare clubs so could lend you some for the day no problems.
Be easier to drive all the way for me. Hopefully car is ok and come late June early July. I am fucking shit FYI, more chance of me skating properly.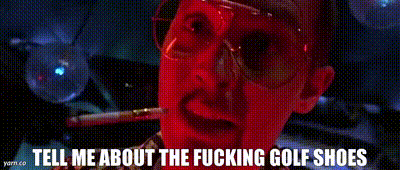 Yeah. And all the others. I'm great at hitting the next fairway over though.
I did hit one peach of a fairway and snap hooked my second into trees. Dropped and pinged it onto the green (on a par 5). A 6 when it could've been a birdie.
Missed a 3 footer for a 49. Gutted.
Also was just off the back of a green on a 285 yard par 4 which i still can't believe. Best hit of my entire life.