When I lived in Prestwick, these things here would come in now and again. A guy we knew worked at the airport, so he knew when to expect them so we'd drive out to this little farm track and stand underneath it, totally mashed. They like Prestwick because the runway's so long and they can land towards the sea rather than a built up area.
Edit:
Been digitising all my 90s footage lately, and here's one here. Looks a bit smaller though.
Was going out to the airport to look at the planes a family thing to do in Glasgow? Spent many Sunday afternoons floating around Dublin airport with my dad looking at planes as a kid, mainly as he was a massive nerd for planes in general. Turned out lots of people did that in the 80s. One of my dad's employees had a brother who worked as a mechanic or ground crew or something there and he arranged for me and a few friends to go behind the scenes one Sunday afternoon into some hangars and maintance areas when I was about 7. Pretty rad to check out planes all stripped down internally, or even just fart about on baggage carts. Not a chance that would happen now.
Absolutely no idea. Glasgow airport is pretty boring, I think. The Wetherspoon is good but it's quite long and narrow.
Prestwick, however, which is where I lived, was the one the US military used on the way to the Gulf, since it had that big long runway facing the sea, was fairly remote, and is right next to a big road.
The CIA would change the name they booked runway slots under all the time, and at this point it was Stephens Express. So basically when Stephens Express have a slot booked, it's military personnel that take over the running of the airport, from the control tower to the fire station. When the CIA arrested some terrorist in CAiro, they took him to the US via Prestwick and the geezer we knew who worked at the flying school could still be there but couldn't leave the building, so he was good for getting the info. When a Stephens Express flight came in there'd be soldiers lying in the grass along the side of the runway, all sorts of mad shit.
We used to go to Manchester airport for a hot chocolate and plane watching. Good memories
Same, there was a kiddy park and some old planes, Vulcan, EE lightning etc, scattered in the grounds of East Mids airport. We'd take a picnic and watch the planes. probably fairly common thing to do for families as it's cheap.
You can find great spots to sit on your car and watch planes land at Teesside airport (like in Wayne's World). Not as dope as this thought…
If you're ever up in the highlands near Elgin and lossimouth you can park right next to the air base and watch these fly by in pairs or on their own. They fly right over the road as they come into land. The noise is incredible.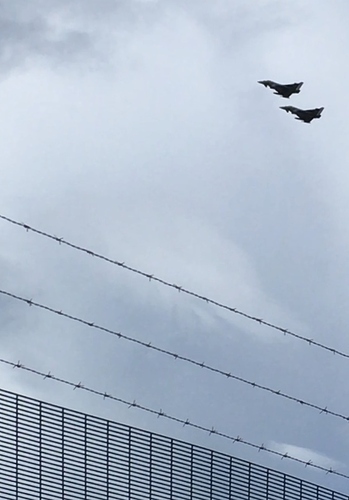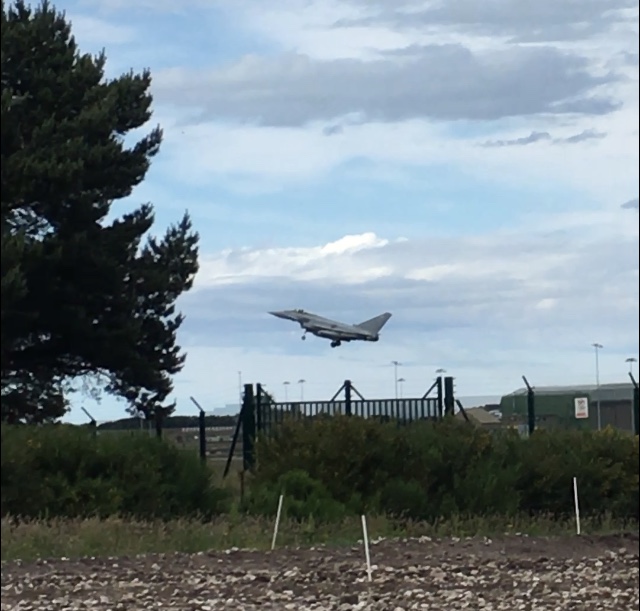 My mum used to live opposite RAF Wittering on the A1.
Watching the harriers take off and return was stunning.
She went on holiday once and let me stay there to look after the chickens and stuff.
A few mates came down and we were partying in one of the converted barns when a car came down the single track lane to the house.
I went to ask what they wanted and they said that they'd heard there was a rave going on.
I reckon that they were from the airbase checking out the unusual activity at the neighbour's place.
Nearest neighbour to mum's place was a couple of miles away other than the airbase on the opposite side of the A1.
Prestwick Airport used to host raves, when no airlines wanted to use it. We would go and drink and eat cosmic yoghurt outside it, and listen to it from there, then in the morning on your paper round you'd see all these sweaty fucked aliens staggering about the town trying to find food/escape.
Of course it's all different now. It's all cheap flights to Europe now, isn't it?
Posting for ten years? From Saltcoats? It's probably legit.
Just watched the latest Storror video and they feature this basketball court somewhere in London. Looks like a sick spot. The walls above the banks look slightly over vert. Anyone been there?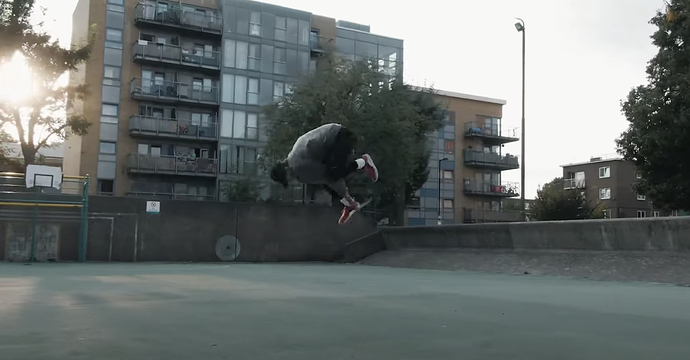 Pretty sure that's just up past Bermondsey station. Up the road turn right