It would be very good I think. I can vouch for it being good with halloumi.
To be honest though, it's a just a bit of a convenient novelty. I might buy it again but you can get the same effect with a bit of chilli powder and normal honey. I got it for my birthday in August.
You are strictly on vegetables and zero flavour.
They've been round Bish's a few times
That'd feed me for a week mate

I'd actually love to try that.
Didn't need the tortilla IMO.
I've never actually tried haggis. Should change that.
I had a haggis burrito in Leith, like 8 years ago.
It was honestly great and still think about it now.
That looks lush but it definitely needs some splash.
Maybe some sriracha sauce for some tang.
Did a bit of bish and freestyled my lunch today. Scrambled egg, ham and cheese half moon quesadila thing with encona hot sauce. Banging.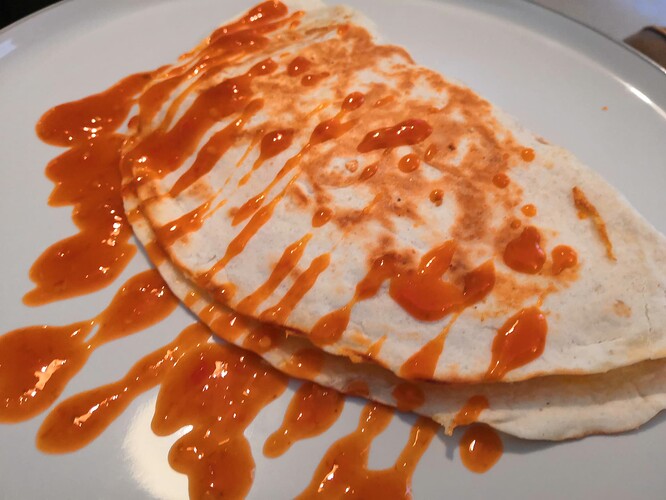 Went to Sandwich Sandwich today as we're on a shoot in central Bristol.
I ate way way way too much but I don't regret a thing.
No pics, but it was a glorious chicken stack followed by a cheesecake purely because #expenses
It was probably half a pint
I'd be up for trying that
Bish X Stockholm syndrome right here guys.
It's not even weird, You'd have lasagne and garlic bread in the same meal, may as well combine. That photo looks DELICIOUS
Lasagne goes so well with so many things. I was at a family buffet recently and helped myself to some lasagne on top of pizza, it was great (I'd had quite a few beers tbf)