Best is Thatcherite MP Virginia Bottomley - 'I'm an evil tory bigot', or 'gob at vile minority'
Unarm Vasal Rebel also fits quite nicely.
Work based viewer discretion is advised.
Lifelong Tory gets the smallest taste of what it's like to not be on the same side of the Mail and Telegraph's agenda.
The ChildCatcher's studious younger brother. The Demon Headmaster's banker offspring. Like if Roald Dahl described a Tory party member.
Hoax, but would be amazing:
13 thousand likes for one of the very shittest of tweets. Why the fuck is twitter suggesting this shit to me. Fuck. Off.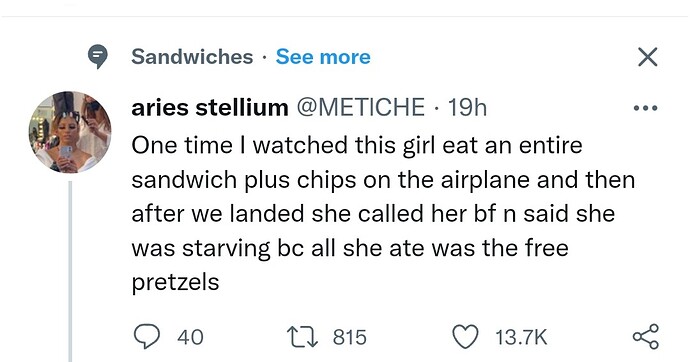 Delete twitter and talk real sandwich issues on here.
Took way too long thinking about taking a bag of chips on a plane until I realised It's the American version of chips.