Blueprint for me but now sadly defunct,of the latest stuff Blast Skates are making some pretty good wood.
I had a Harmony board that I got on really well with - just before they disappeared.
Currently using a Lovenskate and I like that.
Both boards have an Owl graphic, but that's probably just a conicidence.
Edit: I had Milk & Third Foot decks that were good… but both now gone too).
Blueprint fo' sho' consistently.
Edited out a non UK board… Duh.
Used to love skating Landscape.
I've never had a blueprint board. But I had a reaction one early on which I think I learnt everything on and nothing since.
Stating the obvious but a lot of the brands are just gonna be the same wood aren't they… Sold a bunch of Harmony boards bitd, and repeatedly skated the Gavin smoker graphic deck myself, really liked em, but I'm assuming same wood as Karma as it was all IFive… I miss Harmony…
Best board I've ever had was a Greg Finch 7.75 Reaction board, with a Finch on, it just flipped perfectly, until I snapped it trying to flip a gap and had to walk 5 miles home…
I only ever had one Blueprint board, I won a Shier 7.375 in a comp and learnt a ton of flip tricks on it because it was the thinnest board in existence… Imagine the looks you'd get rocking up with a 7.3 these days…
Reaction, heroin boards… about to grip a lovenakate board so will get back to you on how that rudes/lasts.
Minute decks I probably bought from Mush at Non stop. might be nostalgia but the 3 I had i remember being fantastic
Yes Andy!
Do you know what?
I almost mentioned those.
Their shapes and sizes were amazing.
There were 2 7.5 shapes.
One flatter than the other but they skated amazingly.
I used to get mine off of Gaz when he received his packages each month.
Top left in the image was 7.5 and the other with an old bearded guy in the graphic, not shown here, was the other.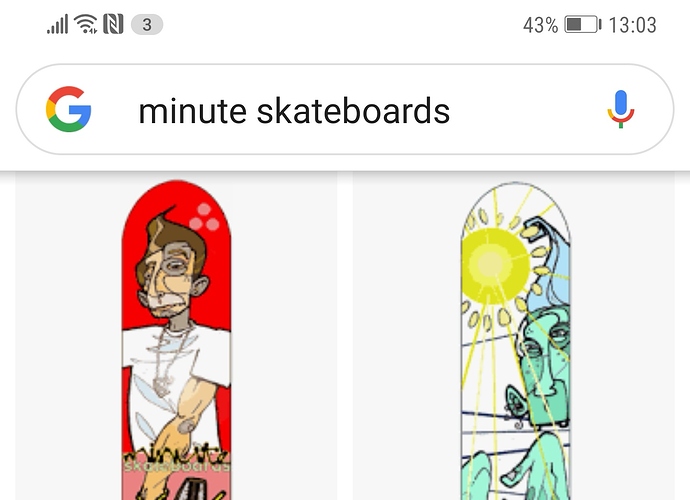 had load of death boards, always felt most comfortable riding them, also love the OG back and skull and bones graphic, simple but dope. also had about 3 death lite boards too which was another tight graphic
i really liked crayon boards
landscape and death also, native shop decks which i think were a third foot? heroin boards always been good to me but i guess they aint truly "british" since theyre under bbs
I had the middle right, 7.75 I'm pretty sure, remember that being the best. also had 2 if the logo boards that looked coloured in. can't remember what the concave was like just it felt great. what ever happened to Gaz?
most recently, I've had two excellent boards from NinetyOne.
Heroin boards never disappointed.
amusingly, I can't remember much about the two Flip boards I had
Anyone know what wood Reaction were on then?! I'm assuming PS Stix as it was New Deal essentially?! This thread has made me realise every board I've really liked I've snapped…
Oh yeah, the logo boards were nice too.
I had the blue and yellow 7.5's, unsurprisingly.
Zoo back in 2000ish, and Palace, maybe a Stereo thrown in. Can't really remember which woodshop, I'm not at that level of caring. I remember I had a Hopps board which was awful.
As for what happened to Gaz, last I heard he went into carpentry.
last I heard Will Golding told me he'd "got into football" whatever that meant! my mate loved the 7.5s both of us were bummed out when we couldn't get them anymore
I haven't seen or heard from him since I left the shop.
I was updated by Mark and Robin.