Yeah, there is even a Jamaican Bobsled Team!
Indeed, what more could you want? Is there a British ski jumping prodigy perhaps?!
President Winnie the Pooh's hands are fucking TINY
Think we've got contenders in the skiing slopestyle. Nobody in the alpine events that I know of. Sadly no Eddie the Eagle.
Curler Eve Muirhead and alpine skier Dave Ryding, both competing in their fourth Winter Olympics, carried the Great Britain flag into the stadium.
Dave Ryding, brilliantly apt name.
IOC shouldn't have allowed this to happen whole China maintains its human rights abuses tbh
Oh yeah, he might have a chance in the slalom, forgot about him.
Anyone fancy going for the fastest time on the downhill skiing on this game? I have a rom of it somewhere.
The other sports are shit but the skiing bits are great.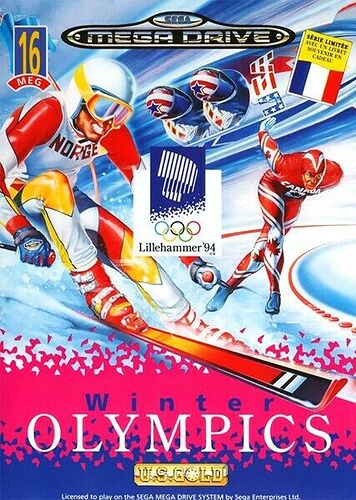 Set up a we transfer for the rom and I'd be up for the challenge
Will do (much later). Game on!
I will Lillehammer you. Does it work on Mac or is it windovax only?
Any Mega Drive/Genesis emulators will do.
Does this work (also goes for @KeithBeef ) - this is the Fusion emu
this is the Rom
Just open those links, hit download.
Extract the Fusion zip.
Move them both into a folder somewhere on your computater.
Plug in your controller and open up Fusion. Go to to options, set config and select USB controller from the drop down. Select define and tap out the buttons you want.
Then just go to file > load genesis game and find the rom.
Open up the game and enter full Olympics and type in your name.
Exit.
Go to training and select Downhill:
Lets dance.
First run completed. A marker at best:

Easier when you learn the track

The agony:
barrier broken

I know no one cares but I'm proud of myself. 1.34 next.
Just want to say Eve Muirhead would be a cracking candidate for the old gallery thread.
The slopestyle has started already I see. The British girls run where she ended 19th or something was petty impressive to me. The jumps are absolutely huge.
It's the one sport I want to watch but I'm sure I'll get into a bunch of others. Ski jumping is up there as well as the downhill skiing.
Are they having the tank-driving slalom in Tienanmen Square this year?
Speed skating. Bit dull.
Neeeext.
No crashes then? I'm just catching up on the snowboarding