Oh, I always wanted the leaf one.
I'd love to find a Think Bertino to go with my Mustard tents.
Heavy Experience flow team keepsakes there from Mr Loftus
so hyped to see these.
only saw the Gap one bitd, Sgt Pepper and the Kinks were a total surprise
Not usually an Element fan, but I'm a sucker for anything Peanuts. Tempted to pick up the Westgate Charlie Brown board.
I always wish that when brands do collabs like this they'd do a team board that doesn't have a skaters name on it.
Yeah for sure. I ordered the Charlie Brown one as a wall hanger, but I know I'm going to have to explain to people who come round why it has 'Wesgate' on.
Some of the Primitive x Moebius ones were team boards. Which I thought was cool for that very reason
Love Moebius but didn't think the graphics translated to decks all that well.
A Kind Of Magic was a totally different album and nothing to do with Queen II or Bohemian Rhapsody though.
Stop getting Queen wrong
Top graphic of a Lucien Clarke deck. Might either regrip it with clear grip and skate it as a cruiser as it's an old deck or hang it on the wall, not sure.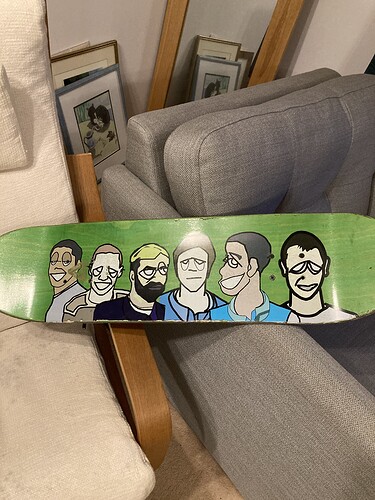 Is Science still going? I was looking to buy that top one as a wall hanger, and can't see their boards for sale anywhere in the UK.
Found one online shop, but they only have it in the cruiser shape.
Yeah Chris still runs it. He was in SF for a bit but is back in UK now I think. His insta is @sciencechris give him a shout
Nice one. I sent a DM to the science account directly but didn't hear back.
I realise everyone is busy, so never want to pester people, but I'll try sending him a quick message direct.
Thought this was a really sick graphic series
Sorry wasn't meant to be a reply to anyone dunno why that happened @PolarJames

I'm really feeling this cheeky little alien.