I can't see how they're making a profit on those.
Thanks! I heard really good things about them. I'm not super stoked on the new Indys I set up yesterday, the bit of the hanger that sits in the pivot cup is slightly smaller than the plastic stock pivot cup and my trucks therefore move a bit and aren't super solid. Barely noticeable when I'm skating I suppose but I'm 40 and can afford good pivot cups made of urethane to make trucks I'll skate for 3 years better.
funnily enough i just set up the same board
not that fussed about the wells, was on sale and the same dimensions as my last board.
8.5 x 32.125 x 14.5wb
venture 5.6, thunder white bottom bushing/bones soft top/flat washer
think theyre heroin 101as about 52mm, was skating some dialtones but flatspotted the fuck out of them so pulled these out the spares box.
mismatch of bearings, jessup, fuck knows what bolts.
That's a nice looking board
Looks nice!
I nearly went for one of these because I fancy moving up, slightly, from an 8.25 to .5 and also it was in the sale.
Decided it was time to (finally) try a Death board instead.
Been riding wheel wheels too…they're good. Definitely get less wheel bite.
I'm also riding 97a Spitfires which are a bit of a revelation. Ride great on a variety of surfaces but particularly good on tarmac. Slide ok too. Worth a try.
I also have 97a Spitfires. Really good in indoor skateparks / they don't pick up dirt and crap in damp weather. They slide when you want them to but they don't slide out unexpectedly. I rate them
Yeah that's true too now you mention it! I usually end up with muck caked on the rolling surface at indoor parks and it doesn't happen with these.
Brazilian freestyle trucks. No kingpin. Made out of urethane.
Just got this guy through for my second/big setup… Hope my old 6.1s won't be too flying carpety, could be a good excuse to try some aces though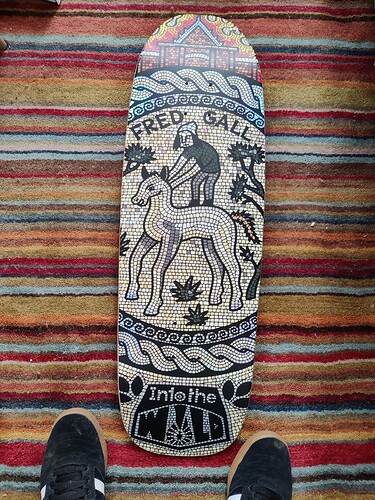 about 9.75 at its widest, tapers to about 9 over the trucks. Been skating an AH beach bummer prior to this, and the shape feels v similar, just a little bit narrower and longer
That's a big old board. Aces are nice trucks, especially the new AF1s. You'd probably want Ace 66, which have a 9" axle. They do take a bit of getting used to - I found mine really turny at first but now I love them.
The 66s are not the same for the AF1s and the classics. Double check.
Yes indeed. Old 66s are wider, I think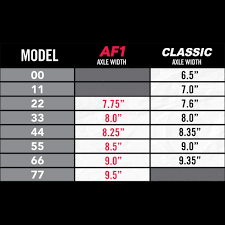 cheers, gonna see how i get on with my 6.1s and some extra washers, never need too much of an excuse to buy new shit though, and wanted to try aces out for a minute
I've only just set up a new deck, but my finger slipped while I was nosing around the Skate Cafe site a few minutes ago…




Always need at least one spare!
Fond of the Forest Gump movie, like that. The Warriors decks were cool too.