I interviewed Tobin Yelland, and it's up now.
That was great! Not sure what he's on about with me wanting me to be called by my actual birth name in Chicago ha ha, Amazing work Build. So many good photos
Fantastic.
Do your interviewees ever comment on your encyclopaedic knowledge?
Ooft, steady. Eli said something but I definitely only speak to people I'm already interested in.
Imposter Syndrome chat certainly feeling close to home.
what a treat. the photos and the stories. delighted he spoke about UK dudes.
Aye that was rad. Heavy good interview. Tobin has taken some of my favourite skate photos, so hopefully get one or two ordered on my next pay day.
Had fun doing a 'Five Favourite Parts' with that 'Verso' fella…
first time i've ever seen the word oftentimes used?
Spellcheck confirms that it's a word. Wanted to hyphenate, but there it is.
mental, must be an american thing
I know there's a thread for the actual book–and rightly so–but I'll put this here so all the interview posts are together.
The photos he sent for this aren't even in the book. Dude has shot so much amazing stuff.
Am I the only person here thinking that the pic of Stevie on the cover is corny?
Absolutely loving this pic of Kenny Reed doing a nosegrind in SF from the article builda posted (saw it on Insta a while ago, glad to see it in bigger resolution here). This pic makes me want to wear Half Cabs with cuffed jeans, to do nosegrinds and to go to SF.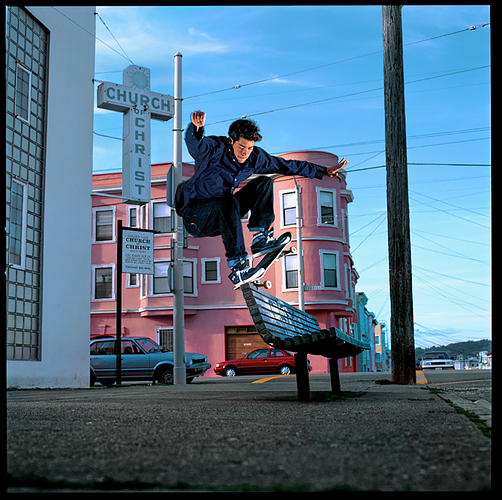 Rad piece by Jono with Youngo about the new skatepark in Horsforth, West Yorkshire. Not sure if they discuss the -o thing.