We had tickets for the Glasgow show, ended up having a great weekend there anyway.
I saw them (i think with @Snurp ) at Alexandra Palace before they toured Science Fiction and by god there were so many aggro dickhead guys there.
Then it came out Jesse was too handsy and they never did their goodbye tour so the one we saw was their final London show.
Incidently Manchester Orchestra were a much nicer band/concert. I wouldnt rush back to see Brand New, particularly as they were screaming every song and just seemed over it all.
I saw them support Biffy Clyro and they were the same. Much heavier than on record but I couldn't tell if that was just how they played post-Daisy or if they were over it. Think this was just before Science Fiction possibly
Biffy on the other hand, a band I'm not particularly arsed about, were actually really really good live. I was surprised
I think they were over it, almost everyone that i heard had seen them said they were just going through the motions. Jesses voice was fucked, he just let the crowd sing most of the main songs then screamed the rest.
I think their last few years were pretty shambolic, forgetting guitar parts and just winging it, amps were all flat out and feeding back and it was noise ratger than playing.
In contrast to Manchester Orchestra who were touring Cope and killed it.
It was Bad Books, manchester orchestra and another band that was basically random members of both mixed up. The bassist was in all three and played solidly for about 2 hours. They were way heavier than the records too but really tight with it
I actually enjoyed them supporting Biffy more than I did at the Ally Pally gig. It was a bit punchier and they were less up themselves because they were only supporting. They did well there.
I've seen Manchester Orchestra a few times, once with @BDF and Kevin Devine/Bad Books were there too. They're always good. And they seem like actually nice people. Really like Kevin Devine.
Aw man, Meat Loaf died. I suppose with the life he lived, reaching 74 is quite impressive
RIP
Love meat loaf. Gutted.
Got a friend who as soon as a musician dies he's quick to post an RIP on insta, a serial RIPer you would say. Will see about ML as he might be a bit 'off brand'.
Meat Loaf you have to be of a certain age and disposition to even be aware of who he was. If you know then you know, absolute legend
Him and Steinman made some epic shit together
That's a bummer. The last time I saw them was the Daisy tour and they were really good. You Won't Know was the ender and must have gone on for over 10 mins, it was so sick.
Gutted that I didn't pick up tickets for any of their other shows before the non existent Sci Fi tour.
I didn't expect to see some Brand New chat in this thread! I Still listen to them all the time. Only saw them once back in 2012 and they were great, I like how they finished up and walked off, no need for an encore.
My profile image is TDAG, they're always present here.
However it would be great to hear the studio version of Sealed To Me, which they recorded and then left off Sci Fi.
Incidently really fun to play covers of it on a jazzmaster in drop d
Mantra is loving every second of it. Bryan Gee is amazing. ha ha.
That was great. I didn't do too well - only 3/10 but I did better than A Guy Called Gerald. He was useless.
barely got 2, I never knew track names and artists they were just tracks I heard around I guess. Some real obvious ones in there though and still I couldn't find the info in my head.
I'll be honest; there were only two others where I really recognised them. But even if I had an hour, I'd still struggle to have named them. Same deal as you, with those - Just had heard them around a lot.
I did pretty well but a few favourites in there. DJ nut nut is pretty obscure but has that sick Rodigan sample at the start
Edit it's the remix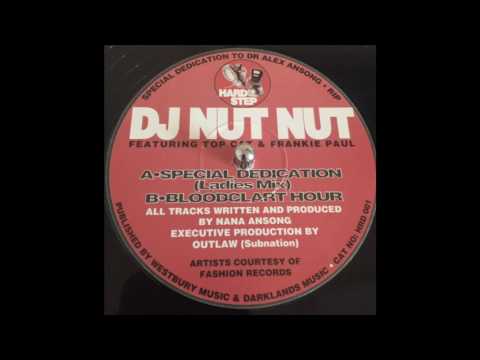 I'll never forget being at a techno night in 94 or so and the DJ dropped champion sound, place went apeshit