Ah rad gonna listen to that tomorrow. Ta.
Just spent a very pleasurable couple of hours listening to @anonymity. There was so much good stuff in there, and although I've never listened to Looking Sideways before I really rate the interviewer. One thing that I'd like to follow up on in particular: which rail did Jimmy Boyes do in Plymouth?
I know from experience that teaching doesn't leave much time for anything else - but I'd definitely subscribe to the AnonCast. The Anti-Crob. Ep.1 - Mike Wright. Please.
Stoked on getting Anon & Magee in-depth podcast in the last month or so. Two of the most influential people in skateboarding to 15 year old me.
this lady's trial has started so they've restarted this series:
nuts.
Agree with everyone's comments on the Anon podcast. Seriously, listen if you haven't already. Very much looking forward to the book project that was mentioned!
I'm halfway through and loving it so far.
so please, no spoilers on how it ends.
In 1975, no one died. In 1976, no one died. In 1977, no one died. In 1978, no one died. In 1979, no one died. In 1980, someone died. In 1981, no one died. In 1982, there was the incident with a pigeon. In 1983, no one died. In 1984, no one died. In 1985, no one died. In 1986… I mean, I could go on.
Yeah that Looking Sideways was a great listen, been after an in depth anon podcast for a long time.
Almost passed me by as the soundcloud embed here was all cropped and squashed so couldn't see what it was
The black ones at the Civic Centre - maybe a ten stair - dunno if they're still there.
@buildafire may well have the Skateboard! with it in
And, cheers
Wasn't actually that photo I meant.
And it was at the theatre, not the Civic (which is the above one I think).
IIRC it's the Theatre Royal - it had stairs/rails leading down into a quad area where the entrance was
It ran over a dps @buildafire
That photo is the old drake circus rail, now long gone for a shopping centre.
The black one would have been Theatre Royal (so close to Civic you could do a line to it) which has also sadly gone now.
A lazy youtube has someone flipping the stairs next to the rail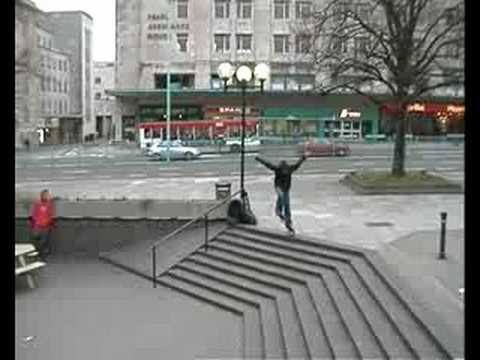 That's the one - I did remember it correctly after all.
Jimmy ollie boardslid that in maybe 1991 which is absolutely fucking mental.
Wow. That rail is so high, I don't think many people ever stepped up to it
Isn't it - I remember being shocked by how big it was when I went there, (maybe 97?).
Jimmy was smashing rails of that size 30 years ago.
There's a reason why Rowley cites him as a huge influence and always has him in his sections.
Absolute raw street pioneer
Meh, pulled that out straight away. Oh well. I'll get the right one tomorrow.