Check out @StateOfLinkedIn on Twitter. I go on the odd time to chat to old colleagues and it's actually like what you've posted it's hilarious
You guys are often stoked on the backdrops in the clips I post and I thought you'd like this pic (first slide, not me, a mate and another dude).
This one too, same location and vibe:
Found some photos from the World / Phaze 7 demo at South Shields in 1994 in the MirrorPix archive
Mark Oblow in a couple of shots but not sure the others (apart from me & some locals)
Haha, that's me.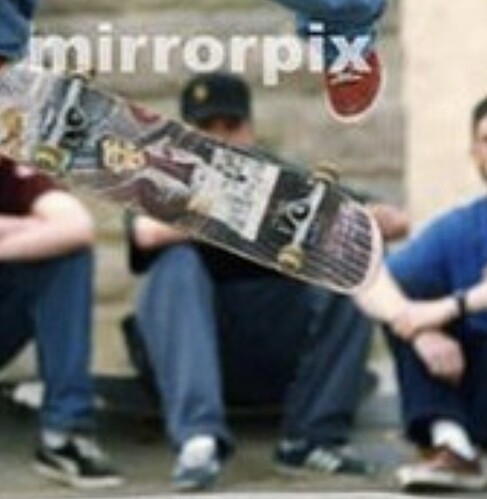 These tours were so rad. A random bunch of American pros turning up in the North East each summer.
Overspill from the 'Skaters in Brighton Area?' thread.
@Spanky Nollie hards. Worthing library banks. Circa '99. No photo credit. (Maybe Kevin Michael Eason).
My mastermind chosen subject would be skateboard graphics 1990-2000 but I have no clue what that one covering voods is.
The one and only time I ever skated that spot!
I'd hazard a guess it's a Flip deck. But that's just a shot in the dark.
Worthing banks were so good. Shame they fenced them off
Sure it's a think deck.
Edit: artofskateboarding says no though
It looks like Danny Calow skating, I'll ask him what board it was (if he remembers?).
Am equivalent of say, Heaths slam on the hubba 5050, would probably be career ending in most other sports