Down to $150 now. Saving you $1250, but it means the Afghan women and children will only get 15% per pair.
I've enjoyed this pants debacle.
Curryuma, batb12, women's slacks, overall shitness.
Berrics 2021 been quite the ride.
I hope GiftedHater doesn't get disappeared.
Can I get a TLDR on pantsgate? I don't follow the Berrics or spend much time on insta so I'm not up to speed, but it sounds funny
"Influencer" makes generic baggy trouser, increases price from $100 to $1400, is revealed to be working from the Berrics, reduces price back to $100.
Out of interest, what are the consumer rights for those who spent 1400 dollars on a pair of trousers and now see the same pair being sold for 10% of the price?
Surely there's some litigation there…?
I think it's covered by the 'A fool and their money are easily parted' clause?
If these people actually exist, they should be laughed at.
Speaking of trousers, what about Palace x Evisu reup that is going around Insta
You're assuming somebody paid $1400 for a pair of no-name maternity Santa pants in the first place.

If they'd just called the company that then they probably wouldn't be getting half the shit that they're getting now.
Sold out , hmmmm wonder if Berra bought them out/compensated them to try do a bit of damage limitation?
Smells a little fishy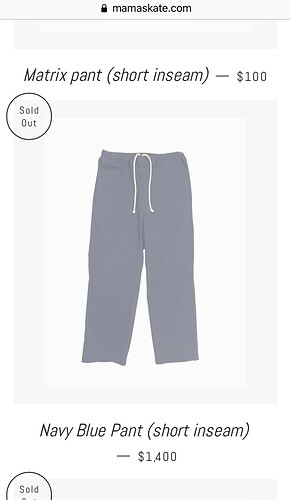 Can't help but notice Mark Suicu wearing Dickies in this clip. Do clothing sponsors care about this kind of thing, or do they just turn a blind eye, as it's only nerds who post on trouser threads on skateboard forums who would notice?